Projects
Sušurverk has been one of the most prominent contractors in Iceland for decades. The largest projects are hydro-power structures, dams, canals and rock breakwaters, roads and work on foundations for general structures. The list is getting longer every year and therefore we can only list some of the main projects Sušurverk has completed through the years.
South Coastal Road
Sušurverk Ltd. is constructing the western part of the main southern coastal road in Iceland. The work involves adding the last fifteen kilometers miles south coastal road between Krżsuvķk and Ķsólfsskįla east of Grindavķk and the road to be ready by autumn 2012 fully paved. Included in the project are culvert, riding paths, fencing as well as preparing all connections to the road . The total mass of this project is 304,000 cubic meters of fill material and granular base and also 120 square meters of surface dressing.
Project photos
Landeyjahöfn harbour
Construction of Landeyja-harbour on the started in August 2008 and ended in November 2010. Sušurverk was responsible for the quarry work, processing of materials, breakwaters, mooring facilities construction and passenger terminal.
A quarry was opened on slopes of the famous volcano Eyjafjallajökull, at an elevation of 500 meters where all the quantity in the 650,000 m³ of breakwaters and 550,000 m³ of road fill material was processed and transported to the project area. The largest rocks were up to 30 tons in weight. Total contract value approx 25 million $.
Project photos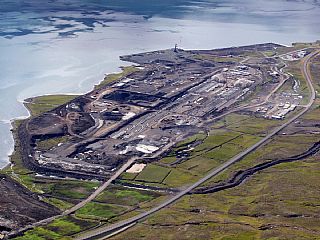 Aluminum smelter foundation in Reyšarfjöršur
Foundation work for an Aluminium Smelter for Alcoa in Reyšarfjöršur Iceland(2004-2007) Sušurverk was responsible for all earthworks and also various other project parts. The Main Contractor for the erection of the smelter is the Canadian construction company Bechtel.
The work began in 2004 and was completed in 2007. The main items of the work were removal of overburden 1,600,000 m³ and blasting and excavation of 2,600,000 m³. Continuing the cooperation Bechtel chose Sušurverk to execute multiple smaller sub-contracts to satisfaction and ultimately the value of the project near 62 million $, more than double the original contract.
Arnarnesvegur elevated roundabout
Sudurverk was a contractor for a highway bridge with an elevated round-about at the intersection of Reykjanesbraut and Arnarnesvegur. The Roundabout is both a highway bridge and a multilevel intersection at the same time and a rather unique construction.
The quantities in this work were abt. 160,000 m³ of fill materials, 65,000 m³ of excavated material, 2,700 m³ of concrete, 340 tons of reinforcement steel and 4,220 tons of asphalt.Contract value over 8 million $.