The Company´s history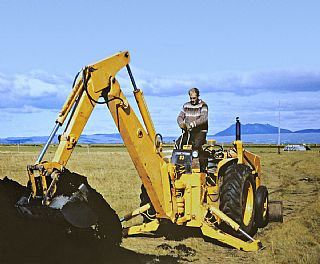 Sudurverk was founded in the year 1967 by Dofri Eysteinsson and Sveinn Thorlaksson, both young and vigorous men who wanted to get ahead in the construction industry on their own.
The year before Dofri had started his own small enterprise with 2 small tractor backhoes in a project for Vestmannaeyjar municipality main water supply.
Sudurverk was at first working on projects for the State Road Administration in Iceland and in the agricultural sector. Gradually the stock of equipment increased and the sizes and the number of projects. The clientelle included now the National Power Company, Reykjavik Harbor, the National Lights and Harbor Company etc.
In the year of 1984 Sudurverk got it´s largest project sofar when it won the contract for Phase 3 of Kvislarveitur, a system of water management in the highlands of Iceland for the National Power Company for 3 million $. After this, many simlar projects followed with ever increasing capacity of the company.
In the year 1985 the elder of the original pair, Sveinn Thorlaksson, decided to leave the contracting business and Dofri Eysteinsson continued as sole owner of the company Sudurverk Ltd. The number of workers at that time were abt. 20. In1996 there was an expansion in the activities of the National Power Companywith new hydro-power plants. Sudurverk Ltd. was present in the field and winning numerous tendered contracts for the Authority.
This has continued until the year 2010, when the projects in this sector as well as in other sectors of the economy diminished drastically in the wake of the economic crisis in Iceland.
The largest project in this era was the foundation work fro the Alcoa Aluminium Smelter in Reyðarfjörður 2004-2007 which valued over 60 million US dollars and the number of staff of the company at that time exceeded 300.
Sudurverk Ltd. has been run over the years with low overhead costs under personal close supervision of the owner. The company has placed emphasis in investing and using the best poosible techniques and equipment available to deliver high-quality products.